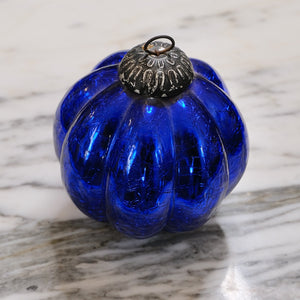 Original French vintage blue snowball mercury glass ornament. Likely dates from the 1950's. This blue Christmas ornament would be perfect on a tree, but could also be used as a decorative item around the house because it sits flat. 

Original French vintage mercury glass ornament


Blue snowball mercury glass ornament is approximately 6 inches tall

Very good condition
Mercury glass, also known as silvered glass, contains neither mercury nor silver. It's actually clear glass, mold-blown into double-walled shapes and coated on the inside with a silvering formula, which is inserted though a small hole that is then sealed with a plug.
CARE: We recommend carefully boxing and storing your ornaments when not in use. If possible, store them where they're not exposed to extreme heat or cold.
Blue snowflake mercury glass ornament discovered in Alsace, France.