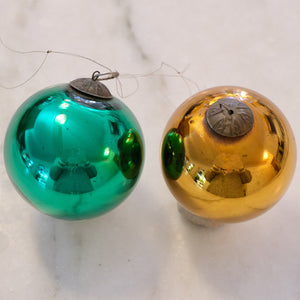 Original French vintage green and gold Goetzenbruck ornaments. These vibrant balls are marked and come from the Goetzenbruck glassmaker, the first factory to make glass Christmas ornaments. Sold as a set of two.
Original French 

Goetzenbruck ornaments




Green and gold Goetzenbruck ornaments are approximately 2.5 inches tall

Very good condition, marked each marked VG (Verrerie de 

Goetzenbruck)

 
Sold as a set of two
In Alsace, "Christmas apples" used to decorate trees. In 1858, after a summer with an intense drought there weren't enough apples to decorate the trees. A glass craftsman from Goetzenbruck decided to blow balls to replace the famous apples. This is how the first Christmas ornaments were born. The tradition crossed borders to become one of the essential elements of end-of-year celebrations around the world. Goetzenbruck produced Christmas ornaments until 1964.

These ornaments are incredibly rare and special. 
CARE: We recommend carefully boxing and storing your ornaments when not in use. If possible, store them where they're not exposed to extreme heat or cold.
Gold and green Goetzenbruck ornaments discovered in Chatou, France.