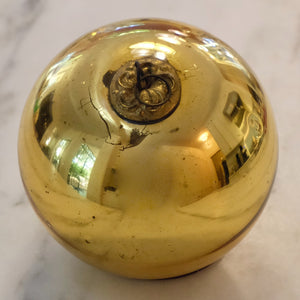 Original French vintage large gold ball "Verre Eglomisé" glass ornament. Likely dates from the 19th century. This large gold Christmas ornament is a vibrant gold shade and would be absolutely stunning on a tree or displayed with other ornaments on a table.

Original French vintage glass ornament


Gold glass ornament is approximately 5 inches tall

Good condition, slight markings as seen in photo
"Verre Eglomisé" is a process of applying gilding on the rear face of a glass surface to produce a mirror effect.
CARE: We recommend carefully boxing and storing your ornaments when not in use. If possible, store them where they're not exposed to extreme heat or cold.
Large gold ornament discovered in Tarn in Southwest France.